The PPOV-6S-PYRO-1 in stainless steel is 600mm wide and comes with digital touch display, retractable selector knobs and quadglaze cool touch door technology. The PPOV-6S-PYRO-1 has nine cooking functions plus the pyrolytic cleaning mode. When the pyrolytic function is selected the oven door locks and temperatures reach up to 450 degrees! All the grease and fats burn to a crisp for you to simply wipe the inside of the oven.
Features & Benefits:

Functions: 10 (Pyrolytic function, Conventional bake, Fan forced, Fan assisted bake, Bottom bake, Grill, Double grill, Double grill with fan, Defrost, Light)
Oven Type: Electric
Usable Capacity: 65L
Control: Touch, retractable selector knobs
Timer: Electronic

Display: Digital, power saving
Door: Quadglaze
Power Supply: 15A electrical outlet
Energy Efficiency: European A-level
Child Lock: Yes
Pyrolytic Function: Yes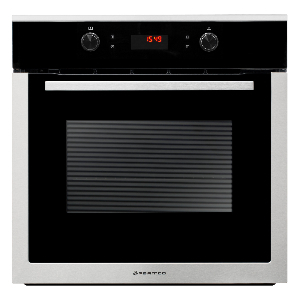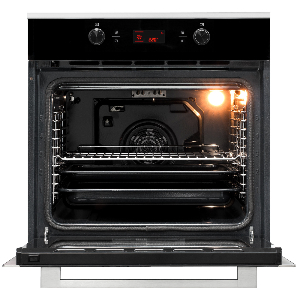 To find your nearest Parmco Expert in a retail shop, click on this symbol.